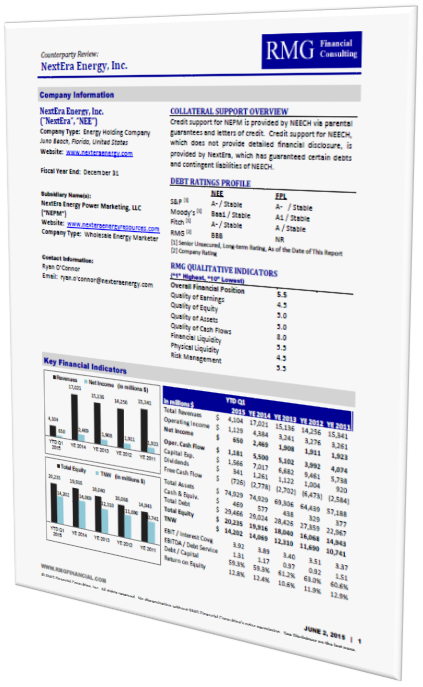 Credit Reviews
---
Using our knowledge to provide in-depth analysis of the financial condition of counterparties.
RMG Financial provides thorough and independent third-party financial reviews of your trading counterparties. Our reviews provide an in-depth analysis of each counterparty's financial condition and creditworthiness and are tailored to meet the specific needs of credit professionals in the energy and financial industries. We review most of the financial institutions as well as an extensive list of major energy trading counterparties that are transacting in the energy industry.
Our reviews reflect over a decade of evaluating companies that transact in the energy industry and our many years of experience in providing financial analysis to our clients. As part of our review process, we recognize the importance of our independence as an objective third party when evaluating counterparties, and we are committed to providing the most comprehensive and accurate information available to us within our reviews.
Information Provided by Our Reviews
Topics and information currently covered by our counterparty reviews include:
> Detailed Company Overview and Ratings
> RMG Financial Qualitative Indicator Ratings
> Summary of Credit Strengths and Constraints
> Evaluation of Generation, Purchase and Load Requirements and/or Production Assets
> Quality of Earnings
> Quality of Equity, TNW, and Assets
> Adequacy and Availability of Liquidity
> Structure of Capital and Debt
> Commitments and Contingencies
> Off-Balance Sheet Debt
> Guarantees and Other Assurances
> Trading Operations and Risk Disclosures
> Overview of Regulatory and Legal Risks
> Graphical Representation of Financial Trends
> Summary of Financial Statements and Selected Financial Ratios
More information:
We review over a hundred companies each year. Please take a look at our completed and pending review list for this year.
LIST OF REVIEWS
Want to see an example review? An example can be downloaded below.